20 Years of Pixar – Animation At The London Science Museum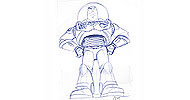 "Computers don't create computer animation any more than a pencil creates pencil animation. What creates computer animation is the artist." These words by John Lasseter, executive vice president of Pixar Animation Studios, greet visitors to the London Science Museum's exhibition.
Ask contemporary kids about their favourite movies and they are almost certain to prattle on about Toy Story or The Incredibles. Pixar has been making such innovative movies for 20 years.
Ever wondered where Buzz Lightyear and Woody really came from, or how a whole family with superhero powers was imagined? Now you can see hundreds of artworks, models and digital paintings from their studios, as well as two amazing audiovisual experiences unique to this exhibition. From rough sketches to finished films, Pixar: 20 Years of Animation takes you behind the scenes to discover the science and magic that created some of the most popular films ever made.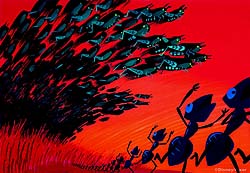 The exhibition is for the first time outside of the North America. You can visit it in the London Science Museum until June 10th.
The history of Pixar is connected with other very famous name – Lucasfilm, the creator of the Star Wars legend. Steve Jobs bought their computer graphics department in 1986 for $10m and the independent story of the new legend in computer animation started.
It created many award-winning short films and advertisements before releasing Toy Story, the world's first fully-computer animated feature film in 1995. Since then Pixar have created several hugely popular films from A Bug's Life to Finding Nemo.
It takes more than 100,000 drawings, paintings and sculptures, with 230 people working up to four years to create each film and the exhibition explores this intricate process chronologically.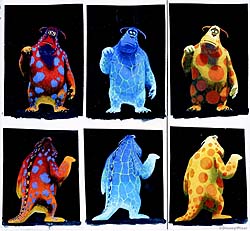 The first room contains the initial pencil and crayon storyboards, scrap paper sketches and illustrations for play blackjack online free scenes and slots online australia characters, including drawings of Woody and Buzz from Toy casino Story. A second room is dedicated to character development.
250 characters from Toy Story II are rotated on an eight-foot aluminium disc and when strobe lights flickering 100 times per second are added, the effect is the same as the slits on a zoetrope and the characters come to life, leaping and dancing before your eyes.
The highlight is Artscape, an 11-minute 3D film developed especially for this exhibition. Shown on a 40x8ft screen, it delves into the very drawings and sketches behind the films, pulling the viewer into the underwater world of Finding Nemo or through the wardrobe doors in Monsters, Inc.
As John Lasseter said: "Our artists create so much beautiful art for each film that most people never get to see, so we are grateful that they will now have an opportunity to experience this unique collection of work." Stand up and go to London, you will be grateful too.