AniFest 2006 is over.
The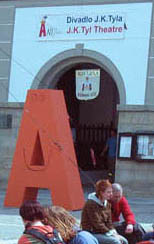 Czechs Were Successful This Year. The AniFest Grand Prix goes to Michaela Pavlátová – Animation Stars From Abroad liked the Festival a Lot – Over 30.000 Visitors.
Anifest 2006, the fifth year of the International Festival of Animated Films, is coming to its end. Despite strong international competition Czech films have been successful this year. Anifest Grand Prix goes to Karneval zví?at (The Carnival of Animals) by the Czech director Michaela Pavlátová. The film had its world premiere at AniFest. The Prize for the Best Feature-Length Film stays in the Czech Republic as well. As expected, it goes to Fimfárum 2 by the directors Jan Balej, Vlasta Pospíšilová, B?etislav Pojar and Aurel Klimt. The Prize of the Minister of Culture for Czech filmmakers and the 30.000 CZK award will be bestowed at the closing ceremony to Libor Pixa for his short film PsiCHO.
AniFest 2006 has been the climax in the history of the festival. By Monday May 8, the organizers had counted nearly 25.000 spectators at the projections and additional screenings. Since the festival continues tomorrow as well, the estimated total number of visitors is expected to exceed 30.000.
Films from more than 49 countries were shown at this year's AniFest and over 150 filmmakers came to the festival from abroad. "AniFest is perfectly organized, the programme and the additional events were great. I think that AniFest is one of the best festivals in Europe because it is not so commercial. Here you can see many films that you can't see elsewhere, which is not always the case at other festivals," said Tim Searle, a British animator and one of the jurors.
"This year's Anifest has confirmed its growing importance. The response from foreign filmmakers proves that the festival has earned a lot of respect, at least in Europe," said the festival director Petr Slavík. "I hope we'll be able to maintain the tendency of growing quality and prestige on the international scene even in the future," he added.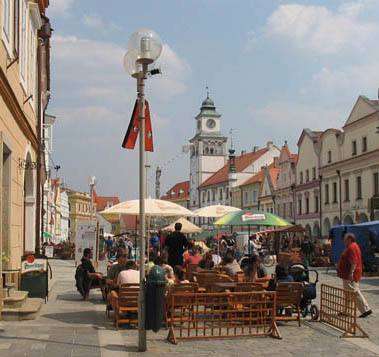 T?ebo? – Masaryk square was the center point full of the people meeting,
refreshing and deciding about their following program
Complete Results of AniFest 2006
AniFest Grand Prix for the best original film goes to Michaela Pavlátová for her film Karneval zví?at (The Carnival of Animals).

The jury explained its decision by saying that the film is "a provocative perspective on the sheer strangeness and diversity of human sexuality".

---

The Prize for the Best Feature-Length Film goes to the directors Jan Balej , Vlasta Pospíšilová , B?etislav Pojar and Aurel Klimt for Fimfárum 2.

The jury said: "Fimfarum proves the continued vitality of the Czech puppet animation tradition. The film is also innovative in its seamless integration of drawn and puppet animation."

---

The Prize for the Best Short Film goes to Great Britain. It will be bestowed to the director Denis Gaelle for her picture City Paradise.

"Such a richly imaginative evocation of being a stranger in a strange land. Totally original in form, content and humour, it uses new technology to create a new film language, and one that also achieves an emotional impact," said the jury.

---

The Special Jury Prize goes to the Portuguese director Regina Pessoa for her short film História trágica com final feliz (A Tragic Story with a Happy Ending).

The jury thinks that it is "a poetic and emotionally affecting story, beautifully designed and created. The sound design becomes an integral part of the story telling, its very heartbeat."

---

The jury also awarded special mentions. The first one goes to the director Isabel Herguera for her film La gallina ciegaBlindman's Bluff). The reason for the special jury mention is an original design.

The second special mention was given to the director Joanna Toste for her films Menu and A dama da LapaThe Lady of Lapa). The jury decided to give her the special mention to this "promising new talent." (

---

Grand Prix for Television and Commission Production goes to the British director tandem Smith & Foulkes for their Motorola advertisement "Grand Classics": "Beautifully art directed and animated, charting significant milestones in cinema history, with great timing and smooth transitions."

Another glass stork designed by Pavel Koutský for the best television film goes to the Japanese director Hiroyuki Nakao for his film Steam Head. The jury appreciated its original design and concept, animated with great expression, clever and unique use of technology.

---

The best video clip of this year's competition was shot by the Czech director Radek Dosko?il. Its title is Murder Song. Matching the sentiment of the song, the animation employs a clever use of the comic book technique with great effect. The palette and design are well executed, simple but effective use of animation.

The stork for the Best Advertisement and Introductory Spot was given to spot called "Cheetah & Waiting Beauty" by a pair of directors Smith&Foulkes. The jury explained its decision as following: "Great use of humor to deliver the message in a clear and effective way. Excellent design ad wonderfully expressive animation."

---

Special Jury Prize in the category of commercial and television film went to directors Mark Baker and Astley Neville for a series episode Peppa Pig – Mummy Pig at Work. The jury´s argument is: "Peppa Pig hits the spot with wonderfully scripted, witty and simple animation with great timing and pacing. Perfectly integrated voices and sound effects. A joy."

Special Jury Mention for short film travels to Japan to director Isao Nishigori for his Acidman. The jury assumes it has "an imaginative use of technology to deliver an eruption of moods and colors."

Another Special Mention is awarded to Touareg "Racing Line" by Smith and Foulkes. The mention belongs to them for "simple, clear image delivering the message with restrained use of technology."

---

Grand Prix for the best Student Film goes to Bus Ride and Flower in Her Hair directed by Asaf Agranat from Edinburgh College of Art. It was awarded for the animation design and poetics of the story.

Prize for the Best School Collection goes to France for La Poudriére school. For the Jury this collection was interesting thanks to its variety and quality of the design. Many of these films have a good story that is well directed. Student´s works were awarded for their poetics, humanism and esthetics. These works show a significant influence of good tutorship.

---

Special Jury Prize for the Best School Collection goes to Supinfocom Valenciennes from France.

This year again, the collection of this school appealed to the jury – by using the latest techniques of 3D computer animation without leaving aside a good story and the artistic aspect of the work. Students' works show a significant influence of good tutorship, which is reflected in the artistic progress of the students.

---

Special Jury Prize goes to 90° directed by a group of directors Jules Janaud, Raphaël Martinez-Bachel, François Roisin from one school, Supinfocom Valenciennes . The jury´s argument is following: "For a perfectly managed 3D computer animation and an interesting subject, as well as the combination of design, animation, sound and editing."

Second Special Jury Prize belongs to Solo Duets by director Joseph Feltus from British Edinburgh College of Art School. The prize is awarded for "a sophisticated puppet animation and camera work. We particularly appreciate the courage you have because you continue making puppet films."

---

Prize for the Best Film made by Children given to directors under 15 years goes to a group of children from Portugal. In the competition they presented a film called Mais perto das nucena, mais perto dos sonaos (Closer to Clouds, Closer to Dreams).

Special jury mention in the same category was given to children from Polish Dziecieca Wytwórnia Filmowa school for Skrocóna historya swiata z gliny / Short Story of the World of Clay.

Children´s film Abstracto / Abstraction won the Jury Honorary Mention.

---

Prize of the Minister of Culture accompanied by 30 000 CZK goes to Libor Pixa for his PsiCHO. The jury appreciated his "modern way of dealing with classical dramatic theme and humanistic dimension underlined, paradoxically, by a sensitive use of computer technologies"