Anark Launches Gameface 4.0

Anark Corporation announced the release of Anark Gameface 4.0. The newest full-point version release from Anark represents a leap forward in productivity and performance for artists and programmers engaged in game UI development.
This release features many exciting enhancements to Anark Gameface including:
Complete "out of the box" integration with Emergent's Gamebryo engine.
Streamlined integration with any game engine, features opt-in scene graph, extensive sample code, UI runtime engine, and detailed documentation.

"Out of the box" preview on target platform, includes multiplatform viewer that provides real-time previewing on Xbox 360, PS3, and PC platforms.

Up to 5x improvement in runtime speed and 10x improvement in memory management, resulting in consistent sub-millisecond scene refresh rates.

Optimized COLLADA graphics pipeline enables artists to seamlessly import their 3D models, materials, textures, and animations from leading DCC applications such as 3ds Max® and Maya®.

Component-based workflow allows large teams of UI artists and designers to work in parallel on any part of the UI project.

"The optimizations and workflow enhancements in Gameface 4.0 are the direct result of feedback and collaboration with key customers and industry partners," stated Justin Ebert, Senior Vice President of Product Development. "I am confident that Gameface 4.0 will radically improve how our customers develop their UIs."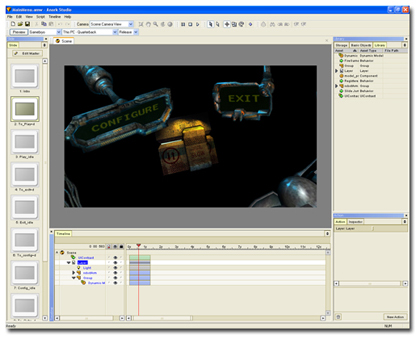 Over 20 new features were added to Gameface 4.0, including an array of workflow and performance improvements for both artists and programmers. The result is a powerful and easy-to-use solution that will save time and money for the most demanding game development titles.
To view the complete features list or to schedule an evaluation, visit the Anark Gameface website at: www.anarkgameface.com