Photographic retouching in Adobe Photoshop with Meghan Farrel

The Gnomon Workshop releases a new tutorial DVD. With this DVD you will learn the step-by-step process of using Adobe Photoshop® retouching techniques to transform and prepare images for production level commercial photography.
Meghan Farrell will walk you through the steps of retouching a fashion shoot as a basis for learning the primary skill sets to make skin and hair look flawless without looking artificial. You will learn how to retouch and maintain natural skin, hair and hands and reshape the body.
You'll be introduced to indispensable methods of using adjustment layers, layer masks and color correction. The techniques demonstrated in this DVD will help you retouch like a professional, whether working on your own images or for those of a client. The cutting edge techniques demonstrated in this DVD will help you stand out when seeking work in this fast-paced industry.
157 Minutes of Lecture.
Topics covered:
Creating Natural Looking Skin
Color Correcting
Hair Clean up and Restructuring
Using Adjustment Layers and Masks
Removing Objects from the Background
Body Morphology
Reshaping with Lighting Effects
Changing the Color of Selected Areas
Chapters:
01: Setting Preferences
02: Color Correcting
03: Skin Retouching
04: Keeping Skin Natural
05: Eyes and Surrounding Area
06: Hair and More
07: Reviewing Skin Techniques
08: Skin Folds
09: Removing Objects from the Background
10: Hands and Hair Review
11: Body Morphing
12: Intensifying Objects and Shapes
13: Changing Colors of Selected Areas
Sample clip:
Click here to view a sample clip from this DVD. Note that this clip is compressed for the web. View the stills to the right to see the actual resolution.
Instructor bio: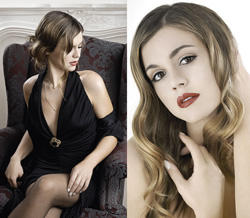 Meghan Paddock Farrell received a BFA in Photography from Rhode Island College. Her understanding of the color darkroom process as well as her background in fine art informs her ability to accurately manipulate color, capture the 3D human form and translate these through lighting effects into the 2D space. As the Senior Retoucher at the publishing house of Weider Publications, she oversaw, enhanced and brought tens of thousands of images to a production level, print-ready, status. Her work has been published in hundreds of magazines including Glamour, Allure, Vanity Fair, Los Angeles Magazine, Shape Magazine as well as many more domestic and international titles and advertisements. She has also worked as retoucher at Getty Images, SuperColor Hollywood, and for notable fashion photographers Guilano Bekor, Norman Jean Roy and Ondrea Barbe. Currently she works as an independent contractor for several advertisers and publications including OPI, VIV and others.