VICON WORKSHOP 22nd March 2014
We open for you all-day workshop with motion capture system VICON software. Workshop can participate, anyone with basic PC skills. Due to full capacity, the minimum number of participants 15 and instead it is therefore necessary to book and the 7th March 2014 at [email protected]
For all participants will be parking available at the building of the training center. In the lunch break , you can visit the restaurant or canteen on site Strahov dormitory .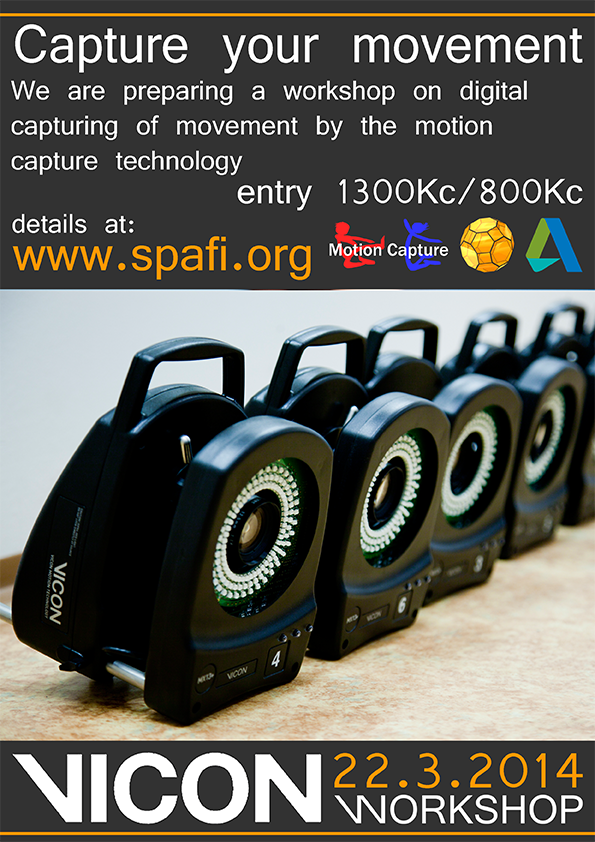 INFORMATION ABOUT MOTION CAPTURE
As the only school in Europe SPAFi allows its students, members and to all others who have an interest in access to the system MOTION CAPTURE .
Motion capture (also known as MOCAP) is considered very controversial creation tool. It saves time and creates an exact copy of the movement , but is again limited to movements that are anatomically possible. In biomechanics , sports and workout, the data in real time to provide the necessary information to diagnose or help design a way to improve performance. The effort required to clean the data of motion capture in the past often required so much time , as if the entire animation animator prepared from the beginning itself. With the development of the producers on motion capture systems , as well as through a number of software companies with motion capture became applicable tool for generating exclusive animations.
Motion Capturing is a technology for digital recording of real human movement , or animal and obtain a set of data for a variety of uses . There are several interesting technologies for motion capture . Most of them are based on tracking markers positioned on the body of the actor (e.g. but exoskeleton systems without marks at all). Computer software for motion capture records and calculates positions, angles , velocities, accelerations and impulses , providing an accurate digital representation of the movement.
Its use can bring significant cost savings that would otherwise be spent on animators who prepares each image individually or using sophisticated software using keyframes.
price 1 300,- Kc, include WAT
term: 22. 3. 2014
TIMETABLE
10:00 beginning
familiarization with the VICON and description
opportunity to try the scanned own movements
13:00 – 14:00 Lunch break
14:00
description and processing of scanned images
and its application to specific situations model
discussing other uses
17:00 End
16:00 – 19:00
free discussion and answer any questions