AUTODESK M&E ROADSHOW PRAHA 2016 10. květen 2016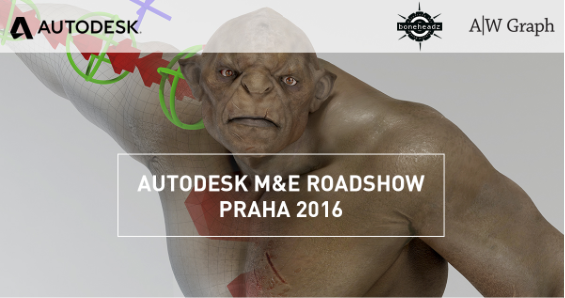 využijte bezplatnou konferenci
a zjistěte více o novinkách v 3ds Max, Maya, Stingray a Shotgun
Vážení partneři, rádi bychom vás pozvali na námi připravovanou konferenci zaměřenou na novinky
v produktech Autodesk 3ds Max 2017, Autodesk Maya Extension, Stingray a Shotgun.
Připravili jsme pro vás přehled všech nejzajímavějších novinek v těchto produktech a navíc budte mít šanci setkat se osobně s odborníky ze společnosti Autodesk.
Těšíme se na viděnou. Registrace zde: http://www.awgraph.cz/#!roadshow/k4bgh
PROGRAM
10:30 – 11:30 Autodesk® 3ds Max 2017 – New features and benefits
/Mike Kuhn
11:30 – 12:30 UPP customer showcase – Autodesk Maya in movies
/Viktor Muller
12:30 – 12:50 coffee break
12:50 – 13:35 Say Hello to Shotgun!
/Stuart Holloway
13:35 – 14:05 Renderfarm management
/Tomek Kruszona
14:05 – 14:50 lunch break
14:50 – 15:30 RUR showcase
15:30 – 16:30 Autodesk® Maya 2016 Extension
Modelling, Rigging, Animations
/Roland Reyer
15:50 – 16:20 Autodesk® Stingray in Games Prototyping and Indie Development
/Roland Reyer
16:20 – 17:20 Autodesk Flame
/Stuart Holloway
PŘEDNÁŠEJÍCÍ:
MIKE KUHN


in3.de | www.in3.de
During his study as Industrial Designer Mike Kuhn came in touch with 3D software for the first time. Followed by several employments as application engineer for 3ds Max at Autodesk and for FreeForm Modeling at Sensable he deepened his knowledge in the fields of 3D software. That also included the test to become the ACI (Autodesk Certified Instructor) for 3ds Max in Germany. As a freelancer he works mainly in the areas of production and instruction and so far has had three tutorial DVDs published. Due to his deep knowledge of 3ds Max he is known for solving difficult problems and has gained a valuable name in foreign assignments in the USA, Italy, Russia and France.
ROLAND REYER


Solutions Engineer | Autodesk | Media & Entertainment
Roland Reyer has started in 1992 as an Application Engineer at Wavefront Technologies GmbH in Germany. He became an industry expert for the entire product portfolio of Wavefront Technologies, later Alias | Wavefront, Alias and finally Autodesk M&E. In his role as an application specialist he tested, showcased and trained Maya from its very first version. With over 20 years product and market experience, Roland now works at Autodesk as a Solutions Engineer for Maya, Mudbox, and Motionbuilder throughout Europe.
STUART HOLLOWAY


Technical Specialist CFIN | Autodesk | Media & Entertainment
Stuart Holloway has worked in the film industry since 1980 when he started out as an animation and optical cameraman.
Before the advent of digital technology he worked on a wide range of projects from commercials, optical visual effects and full-length animated features for a variety of leading post houses and major studios. One of Stuart's proudest moments was when he was one of the lead animation camera operators on the Disney film Who Framed Roger Rabbit which won 3 Oscars and numerous BAFTA awards. During the 1990's Stuart embraced the new wave of digital tools that was emerging and made the transition to this exciting new digital medium. He subsequently was instrumental in setting up the Digital Intermediate department at Capital FX (later known as Deluxe London). Here he was lead digital artist and supervisor until he joined Autodesk in 2006 where he is now one of the product specialists that helps and advises customers on the benefits of products like Flame Premium and how these tools are integrated into their pipelines.