Nvidia not worried about short-lived market share setback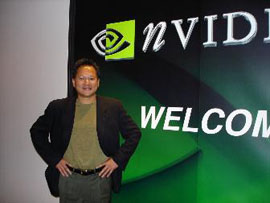 Despite recent Jon Peddie Research stating that Nvidia's sequential growth in the PC graphics market lagged behind both Intel and ATI, Nvidia is confident that its second-place position in the market (behind Intel) will remain secure this year, according to company president and CEO Huang Jen-hsun. Nvidia also posted a bullish outlook for the 3G application market and anticipates a partnership with Microsoft should spur its market share further.
Nvidia is still looking to see its graphics chip shipments increase 100% this year and it should rank as the second-largest player in 2006 on stable shipments of both graphics processors (GPU) and integrated chipsets, Huang said. He values the positive impact of Intel's sharp CPU price cuts to GPU shipment, though system chipset shipments may be sacrificed in the meantime.
Talking about the aggressive price cuts proposed by Intel, Huang stressed that Nvidia's deployment on the AMD platform is still intense but it has a complete product lineup supporting the AMD platform. For the Intel-based platform, Nvidia focuses on the gamer market with a partnership on the Core2 Duo underway.
With a 20% share of the 3G application market, Huang anticipates the close ties with Microsoft on product development will help boost its market share further, especially along with the anticipated mass penetration of multimedia applications among consumers.
In related news, Nvidia announced on July 7 that it would partner with Microsoft on the debut of Windows Mobile 5.0 platform for handheld applications. The company also debut its GeForce 7950 GX2 during the ongoing Computex Taipei 2006.