Halo 3 Racks Up Record Sales

Within the first 24 hours of its U.S. release, Halo 3 has sniped previous game sales records, generating $170 million and topping the sales record set by its predecessor, Halo 2.
Positioning itself as the pwner of all previous entertainment properties, Microsoft said Wednesday that Halo 3's opening day outshined both the Spiderman 3 movie and J.K. Rowling's latest novel, Harry Potter and the Deathly Hallows.
On its opening day, Spiderman 3 took in a record-setting $59 million (for the film industry) in the U.S. and that number had jumped to $151 million by the time its opening weekend ended, box office results show.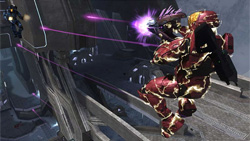 Regardless of its money-printing position in the greater entertainment landscape, Halo 3's launch, as predicted, proved to be the biggest in gaming history. After buying the game, more than 1.4 million gamers logged into Xbox Live to play Halo 3, according to stats posted on Bungie.net.
In the last 24 hours, according to Bungie, 4.9 million multiplayer matches have been logged, and campaign players have bagged a whopping 537,452,951 kills.
"Spectacular," said Michael Pachter, an analyst with Wedbush Morgan Securities. "They covered all of their development, marketing, manufacturing and overhead expenses for the game in one day. Going forward, there will be huge profits."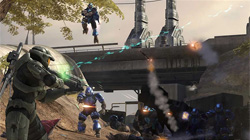 Analysts say strong sales of "Halo 3" could be enough to tip Microsoft's Entertainment and Devices Division into the black for the quarter ending Sunday. A profit would be significant for Microsoft, which has lost billions of dollars on its video game business since it introduced the Xbox console in 2000.
"For Microsoft, it's critical that this title sells well," said Colin Sebastian, an analyst with Lazard Capital Markets.
Goldman Sachs predicted that Microsoft would sell 4.2 million copies of the game just in September. The game's previous installment, "Halo 2," grossed $125 million its first day out in 2004.
"Halo 3" costs $59.99, though Microsoft also sells collectors' versions for $69.99 and $129.99.
In addition to helping Microsoft turn around its video game business, "Halo 3" is regarded as a crucial component in the company's race against Sony Corp. and Nintendo Co.
Through August, Microsoft sold 6.3 million Xbox 360s in the U.S. compared with 1.75 million PlayStation 3s for Sony and 4 million Wiis for Nintendo, according to market research firm NPD Group.