Jolie Takes "Kung Fu Panda" Role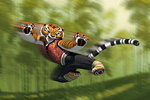 DreamWorks Animation announced that Academy Award®-winning actress Angelina Jolie will join Jack Black, Jackie Chan, Lucy Liu, Dustin Hoffman and Ian McShane in the cast of the computer-animated comedy Kung Fu Panda. The film will reunite Jolie and Black after having voiced lead characters together in the hit 2004 animated comedy, Shark Tale.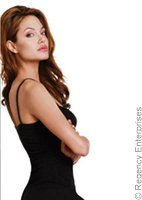 Jolie will play Tigress, a martial arts master who joins in training Black's Po the Panda in the art of kung fu. Coming off the blockbuster hit Mr. and Mrs. Smith, Jolie recently completed work on "The Good Shepherd," slated for release later this year, and is currently working on the Robert Zemeckis directed Beowulf, which will be released in late 2007. She is represented by Media Talent Group.
Kung Fu Panda features Jack Black as Po the Panda, a lowly waiter in a noodle restaurant, who is a kung fu fanatic but whose shape doesn't exactly lend itself to kung fu fighting. In fact, Po's defining characteristic appears to be that he is the laziest of all the animals in ancient China. That's a problem because powerful enemies are at the gates, and all hopes have been pinned on a prophesy naming Po as the "Chosen One" to save the day. A group of martial arts masters are going to need a black belt in patience if they are going to turn this slacker panda into a kung fu fighter before it's too late.
Slated for release in May 2008, Kung Fu Panda is being directed by John Stevenson and Mark Osborne and produced by Melissa Cobb.