Kung Fu Panda Opens in IMAX Theatres on June 6th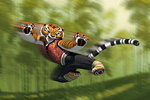 DreamWorks Animation Delivers First of Five Movies Slated for IMAX Release
IMAX Corporation and DreamWorks Animation SKG, Inc. announced that the studio's highly anticipated summer movie, Kung Fu Panda, starring Jack Black, Dustin Hoffman, Angelina Jolie, Ian McShane, Jackie Chan, Seth Rogan, Lucy Liu and David Cross will open in IMAX theatres on June 6th in conjunction with the film's wide release.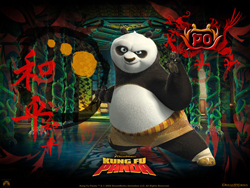 Kung Fu Panda is the first of five DreamWorks Animation films slated for release in IMAX theaters from June 2008 to May 2010. Kung Fu Panda has been digitally re-mastered into the unparalleled image and sound quality of The IMAX Experience with IMAX DMR technology.
"We believe Kung Fu Panda is well-suited for The IMAX Experience, which immerses moviegoers into the action on the big screen," said Jeffrey Katzenberg, CEO of DreamWorks Animation. "We always aim to deliver a premium entertainment experience to our audience and believe IMAX helps us to do that."
"Kung Fu Panda marks the beginning of an important new studio relationship for the IMAX theatre network, and it represents a whole new brand of movie for IMAX fans," said Greg Foster, Chairman and President of IMAX Filmed Entertainment. "This is a fantastic way to kick off our summer movie slate, and we are very excited to share this big summer film with DreamWorks Animation and our audiences worldwide."
About Kung Fu Panda
Enthusiastic, big and a little clumsy, Po is the biggest fan of kung fu around … which doesn't exactly come in handy while working every day in his family's noodle shop. Unexpectedly chosen to fulfill an ancient prophecy, Po's dreams become reality when he joins the world of kung fu and studies alongside his idols, the legendary Furious Five-Tigress, Crane, Mantis, Viper and Monkey – under the leadership of their guru, Master Shifu. But before they know it, the vengeful and treacherous snow leopard Tai Lung is headed their way, and it's up to Po to defend everyone from the oncoming threat. Can he turn his dreams of becoming a kung fu master into reality? Po puts his heart — and his girth — into the task, and the unlikely hero ultimately finds that his greatest weaknesses turn out to be his greatest strengths.