NORA: Interview with director Amy Engels

SPAFi association helped young British director Amy Engels to produce her short animated movie. She decided to use 3D animation for her sci-fi film. Daniel Nezmar from SPAFi was lead animator and Marek Motalík, also SPAFi member, prepared some textures and lights. We asked Amy Engels several questions about her new film.
Can you start off and give us a brief description of your background?
I actually did a totally unrelated degree in fashion promotions. After I graduated I went into styling briefly but soon realized I didn't have a real passion for it, and wanted to visualize the stories that I was writing.
I moved to Tokyo for a few years during which time I made my first short animation ''Space stars'. When I got back to London I started freelancing doing motion graphics and have continued to make short animations.
Now you have just finished your short movie, how was it to produce the film?
Yes, we're in the final stages of a short sci-fi animation called ''Nora'. It's only a eight and half minute film but it's been a pretty long process making it. After trying to work remotely with a team for a long while using every form of communication technology has, we've finally got a studio which has made everything so much easier. I think no matter how good technology gets for working remotely there is no substitute for sitting in the same room as people.
Tell us more, what is the movie about?
It's about being fed a purpose in life and a dream, which the character believes will lead to her fulfillment and happiness then discovering that it was given to her only to serve someone else's needs (the humans) but on discovering that it leads her to create something new and ultimately more fulfilling than the dream she was given.
Through a scheme called digital shorts run by Film London. Each year they commission eight films. The criteria is that they're made digitally and with a running time of under ten minutes, and for under 10,000 pounds.
What inspired you to do this type of short?
I like using the setting of space in many of the things that I do for a number of different reasons.
I like that the language of sci-fi constructed in the 50s established the use of metaphors within the genre and the audience accepts that the story can work on a few different levels…
I love those 60s and 70s sci-fi movies that were about exploring ideas and that's something that you have free reign of in sci-fi you can create how everything looks and works and behaves. I love that.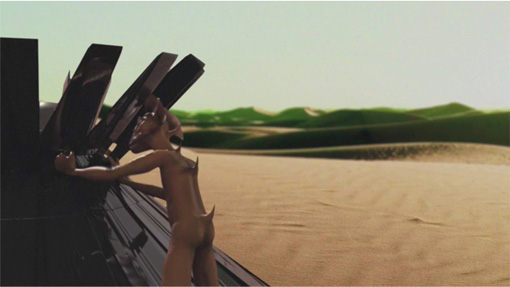 Were there any shots that were particularly difficult to do? How did you resolve these issues?
Initially the design of Nora caused me a lot of problems. She's pretty multifunctional and her skirt goes through three different transformations.
To encompass these within her design caused so many problems, as everyone kept saying it couldn't be done, and I should skip certain transformations, which I felt were really important. I couldn't understand why it was so difficult which made it frustrating.
Eventually the skirts were made and problems were solved. Having talented all rounder like Daniel Nezmar involved makes a big difference to getting these issues resolved. He fixed one transformation that had been ongoing for months in a day.
How do you plan to publicize a personal short like this? What can you recommend to other beginners?
I plan to promote NORA mainly through festivals. As there the best environment to get work seen. Perhaps late night TV slots and things like You Tube are great for getting work seen by a wider audience.