AniFest 2007 is coming!
AniFest announces this year's films chosen by the -selection committee and introduces a new festival jingle as well as a graphic design.
The selection committee of the 6th edition of AniFest chose – 242 films from 38 countries -for its international competition.Michaela Pavlátová, the author and the director introduces the new festival jingle and design.
"The Czech Ministry of Culture has always supported the AniFest festival and will continue doing so", says the director of the Department of Media and Audiovision, Ms. Helena Franková.
The International Festival of Animated Films (ANIFEST) held its first press conference of the year in a poetic coffee shop called Obratnik in Prague.
The director of the festival Petr Slavik said interest in the international competition was enormous. "Not only the volume of individual film entries increased but also the number of leading animation studios like Aardman Animations, Blue Sky Studios, as well as known artists like Joanna Quinn, Bill Plympton, Michael Dudok de Wit and Gil Alkabetz ", announced Mr. Slavik happily.
The selection comittee, consisting of leading Czech animation specialists (Professor Jiri Kubicek, Bedrich Glaser, Michaela Mertova and Tomas Rychecky) selected 242 films, from 38 countries, for this year´s edition of AniFest. The total of films sent to the committee was 1,344, from 59 countries. Traditionally the most popular section was the category of short animations (467 entries, 63 selected).
"The volume of computer animations declined slightly, in favor of classic manual methods of production. And like last year, dark existencial themes prevailed. The audience will enjoy new films by unknown talented artists as well as works of renowned world masters e.g. Alexander Petrov, Joanna Quin, Gil Alkabetz and others", said the chairman of the selection committee Professor Kubicek.
The overall composition of short animation films was positively influenced by last year´s competition – "New Animated Projects" announced at AniFest '06. As a result, this year we can see at least several short animation films by Czech artists. And the winning films of this competition(Sweet Porridge by Jiri Barta, Plastic People by Pavel Koutsky and Ms. G by Michal Zabka) will have their premiére at this year´s edition of AniFest. In February a new web site was introduced. www.czechanimation.cz.
There will be 5 feature films (1 Czech), and the independent section of student movies will again be numerous (510 entries from 49 countries, 82 selected from 21 countries).This year, again, top standard high schools and universities will compete well with professional filmmakers. And we are happy to say that Czech schools can well keep up with the international competition," claims Professor Kubicek.
The international competition is expected to be of high quality and it is likely to be enjoyed not only by broad audiences but by film professionals as well.
The journalists were introduced to a merry and playful "stork&frogs"festival jingle drawing from the new festival design by Michaela Pavlatova. She also directed the jingle and for this task she invited the members of Beatburger Band (Jesus and Ivanhoe) and a young English singer of Ohm Square Band Charlotte Fairman, alias Charlie One.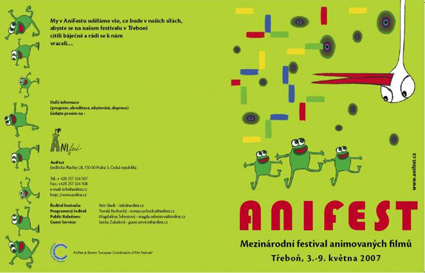 "The offer to create a new AniFest graphic design and a jingle made me happy and I must confess I had a lot of fun doing it", says a smiling Ms. Pavlatova, the AniFest 06 Grand Prix winner (Carnival of Animals). Well, judging from the reactions in the audience, she did a very good job…It may be of interest to say that no synthetic sounds were used, all sounds, including the stork beak clapping were produced by people in the studio.
We will soon learn how well the jingle works through the advertising campaign in Czech and Slovak TV, through cinemas all over the Czech Republic and naturally through the festival audience, since it will be run before each festival production. So we all can look forward to seeing the traditional South Bohemian stork forced into dance by dozens of rapping frogs!
At the end of the conference Helena Frankova- the director of the Department of Media and Audiovision said that the Ministry of Culture has always supported AniFest and its related activities. It is also of interest that this year in Trebon where the festival is held, the ministry intends to initiate a seminar for artists on "How to obtain a grant".