Cartoon legend Joseph Barbera died

Legendary Hollywood animator Joseph Barbera, whose characters Fred and Wilma Flintstone and Scooby-Doo made generations of people laugh, died on Monday at age 95, the Warner Bros. film studio said in a statement.
Barbera founded Hanna-Barbera Studios with his partner William Hanna nearly 50 years ago, and it grew to become one of Hollywood's best known animation companies producing hundreds of cartoons and winning numerous awards.
He died at his home in the Los Angeles-area community of Studio City with his wife Sheila by his side, Warner Bros. said. No further details were disclosed.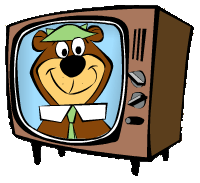 "The characters he created with his late partner William Hanna are not only animated superstars, but also a very beloved part of American pop culture. While he will be missed by his family and friends, Joe will live on through his work," Warner Bros. Chairman Barry Meyer said in a statement.
By mid-afternoon on Monday, flowers were already being placed on Barbera's star on the famed Hollywood Walk of Fame.
Barbera and Hanna, who died in 2001 at age 90, met at the Metro-Goldwyn-Mayer film studio in 1937 and first worked together on the cartoon, "Puss Gets the Boot," which led to the creation of famous cat and mouse friends, Tom and Jerry.
The animation creators won wide acclaim in 1945 when they were responsible for getting Tom and Jerry to dance on movie screens alongside the very real Gene Kelly in "Anchors Aweigh." The pair of crazy critters are still kicking their way to stardom in "Tom and Jerry Tales," which continues to be broadcast.
Barbera, the animator, and Hanna, the director, left MGM in the 1950s when the studio shut down its cartoon unit believing TV would eventually end animation on movie screens.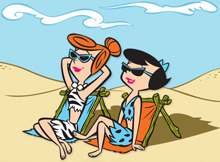 Spurred by the challenge of creating cartoons for the new medium, the pair formed Hanna-Barbera Studios in 1957, where over the years they created characters like the stone age Flintstone family, the space age Jetson clan, the ghost-hunting dog Scooby-Doo and the goofy Yogi Bear.
The prehistoric Flintstones, which were first dreamed up in 1960, featured father Fred Flintstone, his wife Wilma and their best friends Betty and Barney Rubble, who all simply tried to live normal lives in their complicated world.
"The Flintstones" became the first animated TV series to air on prime time U.S. television, the first to feature animated human characters and the first to run beyond the standard six or seven-minute format. Its cartoons still air in over 80 countries around the world.
In the 1970s, the pair landed a hit with the Scooby-Doo character, a lovable Great Dane who worked with teenage ghost hunters to solve mysteries in "Scooby-Doo, Where Are You?" It was produced for 17 years and was made into a hit movie.
By the 1980s, Hanna-Barbera had taken cartoon characters the Smurfs and developed a U.S. TV show for them. That program, which is populated by the small, blue human-like characters called Smurfs. "The Smurfs" still air in some 30 countries.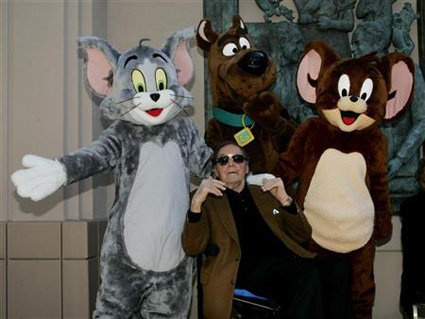 Over the years, Hanna-Barbera won numerous Emmys, U.S. TV's highest awards, and in 1994 Joseph Barbera and William Hanna were elected to the U.S.-based Academy of Television Arts & Sciences' Hall of Fame.
Barbera penned his autobiography, "My Life in 'Toons," in 1994, detailing his rise to cartoon legend from a childhood in New York City, where he was born on March 24, 1911. He is survived by his wife and three children from a previous marriage.