SIGGRAPH GigaPixel Holiday

The summer holidays is coming, it's the time of taking pictures! Prague chapter of ACM SIGGRAPH starts the competition "SIGGRAPH GigaPixel Holiday". If you are Prague Chapter SIGGRAPH member and you can work with tripod and digital camera, join the competition now!
The competition goal is to create the most beautiful photo in high quality – at least 50Mpix (5×107px), but ideally close to 1 Gpix (109px). The picture should use the high resolution abilities, it means the theme should include many details many segmentations, however we put no limits to your fantasy.
If you want to learn how to create giga-pixel images using tripod and digital camera, come to seminar taking place at MFF UK (Malostranske namesti) Prague on June 26th, from 5pm .
Creating giga-pixel images needs to find out the proper scenery, good tripod with gimbaled head, digital camera with long focus, precise hand and patience. Image is assembled by merging of the detailed pictures mosaic using software tool eg. Hugin as the picture below shows.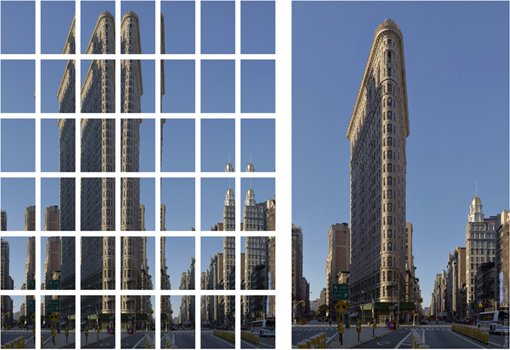 If you want to take part on this competition you must register before Aug 31st 2008.
 

1 GigaPixel Image

In November 2003 Max Lyon, one of the most important large scale panoramic photography trendsetter (later he cooperated on PanoTools modifications), announced he created an digital image in hyper resolution more than 1 Gpix.

The Bryce Canyon shot (place called Bryce Point, Utah, USA) is really successful and in very short time got known around the world.

During realization of this image author found many constraints of standard tools (eg. Photoshop or the problem of PanoTools mentioned above), which were removed after his urge.

Some parameters of this amazing piece:

6 Mpix camera shooting
196 source images (together 196 x 3072 x 2048 pixels)
Captured within 13 minutes (he clicked as fast as he could )
Lens focal length: 280mm, aperture: F9, shutter speed: 1/400
Merged using PTAssembler (779 control points in project, created in 2 hours, optimized in 2 days, 4 days to stitch the project + 3 days of corrections)
Final image dimensions: 40,784 x 26,800 (1.09 Gpix)
Final image file format: RGB Tiff using deflate compression with final file size: 2,068 GB.

Workflow details and recommendations can be found at author's web page .