Softimage XSI 6 Launch Tour 2007

Softimage is pleased to announce the Six Education Tour, taking place across North America and Europe in early 2007.
Sponsored by HP, Intel, Microsoft & NVIDIA, Six Education promises to answer everything you wanted to know about XSI, but were afraid to ask.
See What's New
Come see what's new in SOFTIMAGE|XSI 6 – including the advanced interoperability it offers for mixed pipelines (Crosswalk); new tools to manage increased complexity (MOTOR, Animation Layering, Quick Shade, Delta Referencing); the commitment to standard scripting & programming (.NET Framework, Python v.2.5, C#) and much more.
Catch up with them in Los Angeles, Montreal, Toronto, Atlanta, New York City, Seattle, Vancouver, Chicago, Dallas, London, Frankfurt and Paris.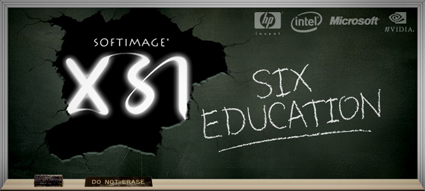 Train the Trainer Seminar Series
Six Education events in New York and Vancouver will also feature a Train the Trainer seminar series, where Digital Tutors will be giving a "How to Teach XSI" refresher course for educators, teachers, freelance trainers and in-house studio instructors. Upon completion of the Train the Trainer seminar, attendees could be eligible to receive a 6-month trial license of XSI Advanced EDU and a complete set of training DVDs.