SPAFi: Launched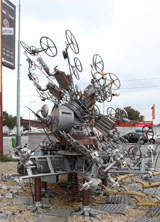 PRAGUE – On Tuesday, September 19th, SPAFi – The society for computer animation and film, was launched. SPAFi invited people across the CG community to its first meeting in Prague. The event, which included a presentation by SPAFi , an artworks exhibition and an animation show, took place at the Cross Club – a very nice industrial looking club. Later on the evening turned into a party.
This event was the starting point for the association's activities and showed
the way SPAFi wants to be involved within the CG community in Central Europe. The mission of SPAFi is to unite people across the whole industry of computer animation and film, to give them a platform for networking, exchanging knowledge as well as experience.
The launch party was open to all people somehow involved in computer animation and film. We invited computer graphic designers, modellers, animators, game developers, architects and engineers as well as film directors, story writers and music composers.The party attracted more than 80 visitors all across the industry.
During the evening the artwork exhibition was prepared for the visitors. You could see the more than 20 artworks showing the animation preparing process workflow, mapping the different styles including the UV paintings and the use of the computer graphics for the various purposes such as computer games or architecture.
Introduced authors:

Daniel Nezmar
Heather Crowther
Milan Vavro?
Pavel Tovaryš
Petr Tovaryš
Martin Lisec
Michal Vondrá?ek
The event started with a presentation of the SPAFi association, describing the current state of CG community in the Czech Republic, pointing out the main problems of the industry that SPAFi aims to help solve in cooperation with all the businesses and artists involved.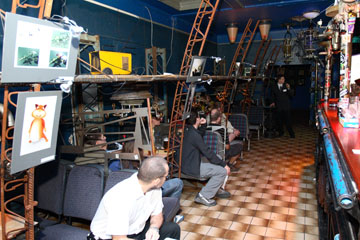 After the presentation visitors were invited to a small lunch. The discussions started and while waiting for the animation show, networking took place. The animation show was divided into 2 sections and introduced contemporary Czech computer animation and short films by Matej Mráz,Josef Kasal, Ji?í Barton?k, Jan Tománek, Tomáš Paclt, Adrian Kukal and many others including the winning pieces of the contest organized by SIGGRAPH this year.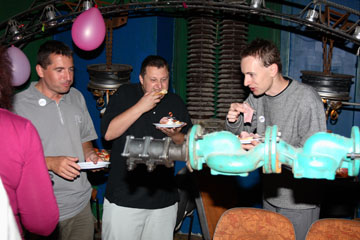 Small lunch to get refreshed before the evening started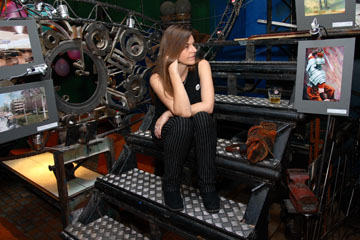 Heather, UV artist, retiring on the stairs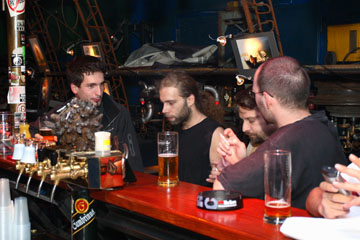 The discussants refreshed the typical Czech way, with the beer.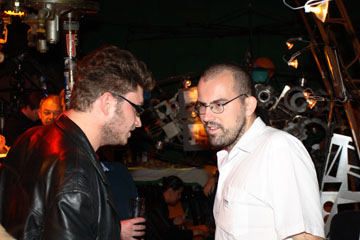 It is allways nice to see the director and the reviewer in friendly dialogue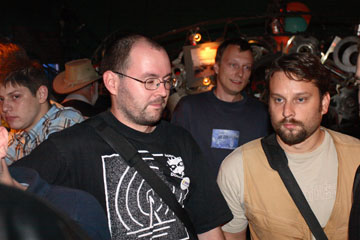 You could meet the authors of the installed and projected pieces at the party
At the end of the evening there was a lucky-draw, where we spread out the interesting prizes. Once again we give thanks to our sponsors: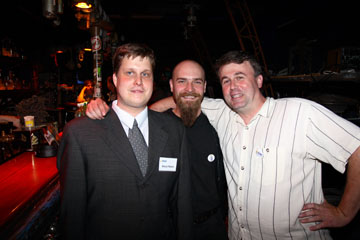 SPAFi team is looking forward to further cooperation with you!