The Power of 3D at the 16th FIRST Robotics Competition

Autodesk helps the students of today become the engineers of tomorrow with Autodesk Inventor and 3Dds Max Software.
Autodesk demonstrated its ongoing commitment to education with a $17 million donation of software and training resources to FIRST (For Inspiration and Recognition of Science and Technology) and the students participating in the 2007 FIRST Robotics Competition.
As Autodesk marks its 16th consecutive year as a FIRST Championship sponsor and the FIRST Robotics Competition official 3D and animation software supplier, it is offering a priceless education for tomorrow's engineers. Student participants will soon gain first hand experience with Autodesk Inventor software, the world's best-selling 3D mechanical design product; and award-winning Autodesk 3ds Max, 3D modeling, animation and rendering software.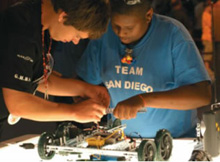 More than 1,300 student teams from seven countries will design and build robots to compete in 37 regional competitions, with winners advancing to the FIRST Championship in Atlanta, Georgia, April 12-14, 2007. As part of its support for the FIRST program, Autodesk provides thousands of seats for Inventor and 3ds Max to the student participants for their use in designing, building and visualizing their projects. Autodesk will also honor two exemplary teams with special awards at this year's Championship event. The Autodesk Visualization Award will recognize superiority in student animation and the Autodesk Inventor Award will honor excellence in student mechanical design.
Autodesk is also hosting a newly developed website entitled FIRSTbase (http://www.autodesk.com/firstbase), the Autodesk source for FIRST teams. The website is a complete destination where teams visit to download free Autodesk software, to access training, the Autodesk Kit of Parts, the Autodesk Design Competition, FIRST resources and for team communications.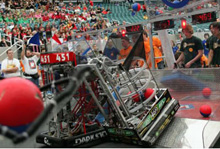 "Autodesk's support of FIRST has been instrumental to the growth of the program and has fuelled the ambitions of thousands of aspiring engineers and inventors," said Dean Kamen, inventor, entrepreneur and founder of FIRST. "Their software brings to life the students' visions while fostering collaboration and teamwork, and offering real-world experiences with advanced design and animation technology. The rewards and excitement from seeing their ideas come to life are unmatched, and the education they receive is invaluable."