Workshop – Integration of animated model into real footage
Date of workshop: 20. 7. – 22. 7. 2012
Price: 340 € with VAT
Lecturer – Mike L. Murphy
Lecturing in english
Workshop Goal: To help students integrate CGI character animation into live-action backgrounds.
It will be a 3 day workshop, ensuring students have a comprehensive and solid understanding of the entire process.


Mike L. Murphy
What he said about himself:
• I've worked in Hollywood for over a decade on hits such as Harry Potter, Ironman, and Lord of the Rings.
• Worked at over 25 different studios (including Walt Disney Feature Animation, Warner Bros Feature Animation, Sony Imageworks, Digtial Domain, and Weta).
• Animated characters as diverse as The Iron Giant, Mickey Mouse, Scooby Doo, Shrek, and Gollum (for which my team won 2 Academy Awards).
• Animation director of Mrs. Buttersworth and Fox's Diary of a Wimpy Kid.
• Supervised previs on many upcoming blockblusters.
• Had numerous animated scripts and story ideas optioned by the big Studios.
• Studied acting for eight years with Hollywood's top specialists for the purpose of perfecting animated character acting scenes.
• Supervised special effects on major commercials.
• Produced several short films, webisodes, and plays.
• Won numerous awards for my live-action short films which have played at many international film festivals.
• Taught Animation at the prestigious Woodbury University in Southern California.
• Seasoned lecturer, including New York Film Academy, CalArts, and Walt Disney Feature Animation.
Timetable
Day 1:
10:00 – 11:00
Morning lecture focusing on the pipeline for integration. Students will look at film examples (both good and bad) and then discuss the workflow, followed by a a Q&A session.
11:00 – 12:30
Students will be broken into groups of 3 so that they can simulate a production environment and encourage leadership, project management, time budgeting, and deadlines. The group of 3 will be responsible for completing a 3 shot sequence (1 shot each, but the 3 shots all need to work together to form a cohesive film).
12:30 – 14:00
LUNCH: Working in groups of 3, students will shoot a locked off background plate that will be the basis for the CGI elements. (bring lunches!)
14:00 – 16:00
Lecture on character animation and acting: Students will analyze the tools an actor uses and how animators can leverage those. They will look at good and bad examples of acting.
16:15 – 19:00
Student groups will input the footage into the computer and prep the scene for the CGI element. Using Maya, they will set up lights, render layers, and the project itself.
Then students will have the rest day to animate the 3 shots (each student gets 1 shot to complete)
DAY 2:
10:00 – 13:00
Morning workshop: Lecturer will review the animation in the morning and issue notes. Each student will have 2 hours to address the notes.
13:00 – 13:30
LUNCH: 30 mins (bring food)
13:30 – 15:00
Lighting Lecture: Focus on breaking down the basics of cinematic lighting in a 1 hour lecture.
15:30 – 18:00
Students will then light their scenes for 3 hours. I will review their work and approve it be rendered.
18:30 – 19:00
Quick dinner (bring food)
19:00 – 20:00
Rendering will be setup and run. Test frames will be grabbed and placed into Aftereffects. Students will set the scenes up to be composited.
DAY 3:
10:00 – 12:00
Morning: Students will verify their renders and rerun any renders that stalled or gave errors.
12:00 – 13:00
Lecture: Compositing. Students will look at film examples of compositing and integration so they can see how filmmakers solve compositing issues.
13:00 – 14:00
LUNCH: 1 hour
14:00 – 16:00
Students will composite their individual scenes and render them. Then they'll edit the 3 shots together to form a basic sequence.
16:00 – 18:00
Reviews. We will look at the edited sequences and lecturer will issue notes (so that the 3 shots all are consistent).
18:00 – 19:00
Final review and wrap up. Lecturer will be on hand to answer any last questions.
For any questions write to: [email protected]
and: [email protected]
Where you find us:
Bus 176 (Koleje Strahov), Bus 143, 149, 217 (Stadion Strahov)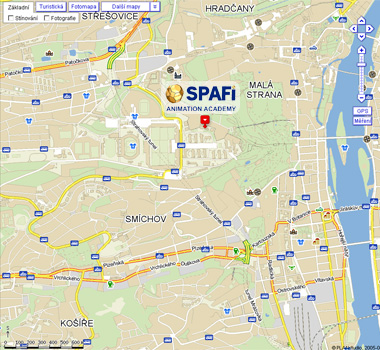 SPAFi Animation Academy
Olympijská 2/1912
169 00, Praha 6 – Strahov