1st realtime 3D collaborative technology by Caligary

Caligari showcases industry's 1st realtime 3D collaborative technology at Siggraph. New trueSpace7 Offers Shorter Time to Market and Lowers Overall Project Costs.
Caligari Corporation, an award-winning producer of 3D modeling and animation software, today announced that it will be showcasing its flagship 3D design software, trueSpace7.1, at Siggraph 2006 in Boston on booth number 2426.
trueSpace7.1 is the industry's first and only 3D software application to feature real-time collaborative authoring technology, allowing remote product design teams, and graphic artists to create, manipulate and edit 3D objects within a shared virtual workspace, over the broadband internet.
Available immediately for $595.00, trueSpace7.1 is ideally suited to meet the 3D authoring and collaborative requirements of teams creating visualizations, simulations and online training material. Unlike traditional CAD software and other 3D authoring tools on the market, trueSpace uses an award-winning real-time direct manipulation interface where the controls themselves reside in the 3D space, so that using them is similar to manipulating objects in the real world. Easy to learn, trueSpace7.1 is designed to allow even new users to quickly master the comprehensive set of modeling, surfacing, lighting, rendering and animation tools.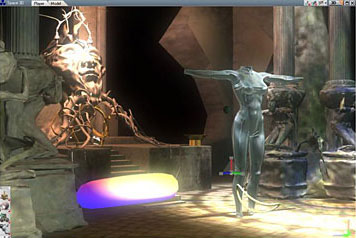 The ability to directly manipulate and share 3D objects in a collaborative space fosters creativity, improves design accuracy and reduces design iterations by combining unmatched authoring, animation and rendering features with better communication across teams. This translates directly into lower project costs, and faster time to market.

trueSpace7.1 can be used in all stages of production, starting with conceptual design and ending with commercial quality photorealistic or stylized illustrations and animations. trueSpace allows users to output to any print or video media, as well as to 3D rapid prototyping machines.
 

About Caligari Corporation

Caligari Corporation was founded in 1986. Over the last 20 years, the company has led the market with major innovations in 3D authoring for interactive graphic design, product design and multimedia. Today, Caligari's mission is to develop collaborative 3D authoring technology that enables participants to work and learn online. The company's award-winning flagship product, trueSpace, is a 3D modeling and animation program with a novel, direct manipulation interface. The company maintains headquarters at 1959 Landings Drive, Mountain View, California, 94043.

For further information, please visit: www.caligari.com