Apple Releases Shake 4.1

Industry Leading Compositing Software Price Cut to $499
CUPERTINO, California—Apple® delivered Shake® 4.1, the first Universal version of its industry leading compositing software and cut its price from $2,999 to $499 to fit almost any production's budget. Final Cut® Studio editors can now take advantage of Shake for sophisticated 3D compositing, keying, image tracking and stabilization for the price of a plug-in. Shake continues to be the tool of choice for major motion-picture studios and leading effects houses to create award-winning visual effects including this year's Oscar inner, "King Kong."
"At just $499, Shake is now priced as low as a plug-in for Final Cut Studio," said Rob Schoeben, Apple's vice president of Applications Product Marketing. "Now Final Cut Studio customers can retouch their shots with Shake's optical flow technology or add photo realistic visual effects to their productions, even on a shoestring budget."
"Shake has become an essential tool at ILM for visual effects compositing, playing a central part in our pipeline on blockbuster movies such as 'Mission Impossible 3,' 'Poseidon' and the upcoming 'Pirates of the Caribbean: Dead Man's Chest,'" said Cliff Plumer, chief technology officer of Industrial Light and Magic. "By pricing Shake at less than $500, Apple has opened up the doors for the next generation of artists to master their craft."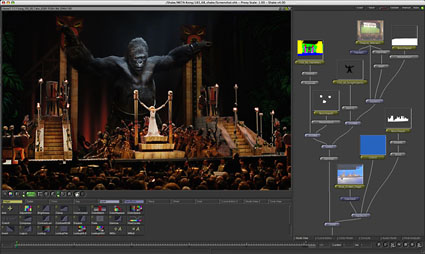 Shake 4.1 complements Final Cut Studio by providing a full range of operations from simple re-touching to complex 3D compositing. Launched directly from the Final Cut Pro timeline, Shake uses state-of-the-art optical flow image analysis to re-time, track and stabilize shots with precision. Particle effects from Motion 2 can be dropped directly into the Shake process tree to add elements such as smoke, sparkles and fire to sophisticated multi-plane 3D composites. High resolution work can flow from Motion to Shake by rendering with the shared OpenEXR format for pristine film quality reproduction.
Shake 4.1 delivers significant performance gains on the new Intel-based Macs providing artists and editors with desktop level experience on the new MacBook™ Pro* notebook computer. Performance tests on a MacBook Pro have shown that common tasks such as color correction, warping and the application of filters are processed up to 3.5 times faster on a MacBook Pro than on a PowerBook® G4. Artists and editors can start compositing with HD, 2K and even 4K shots directly on location making Shake 4.1 on a MacBook Pro an ideal tool for continuity.
 

Pricing & Availability

Shake 4.1 is now available through the Apple Store® (www.apple.com), Apple's retail stores and Apple Authorized Resellers for a suggested retail price of $499 (US). Owners of Shake 4 can take advantage of a crossgrade to Shake 4.1 for just $49 (US). Full details are available at www.apple.com/shake . Apple will no longer sell the Apple Maintenance Program for Shake. Current Shake Apple Maintenance customers can contact [email protected] for more information.