CREATIVE CHARACTER DESIGN TECHNIQUES WITH NEVILLE PAGE

The Gnomon Workshop announces the release of a new creature design DVD by concept artist Neville Page. Through his experience on such films as Avatar, Star Trek and Cloverfield, to name a few, Neville has developed a variety of approaches for creature and character development.
In this lecture, initially created for a Master Class series at Gnomon School of Visual Effects, Neville explains and demonstrates an approach for developing character concepts through a process of fostering "happy accidents". He shows how to apply his technique for working loosely and "finding an image within", using Photoshop and ZBrush and resulting in a sculpted ZBrush sketch.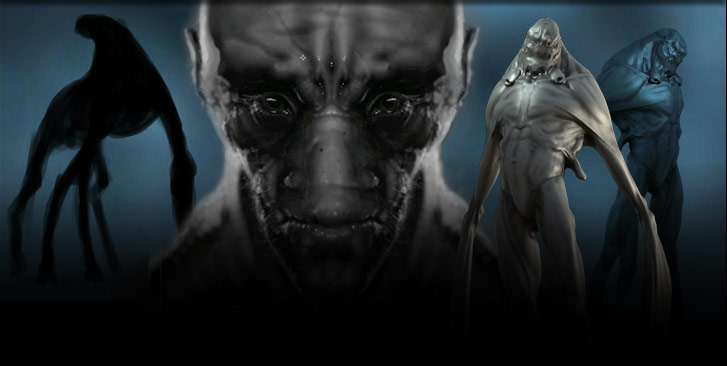 DVD DESCRIPTION:
In this DVD, Neville offers alternative approaches to developing ideas, specifically for character concept development. There are times you want to approach a project with great specificity and then other times you want to put aside presumption and allow for "it" to happen to you. This DVD explores a few approaches to fostering "happy accidents" and ways to efficiently "see" quickly. Neville begins in Photoshop®, very quickly sketching random shapes and areas of value to "find" an image within. After discovering an intriguing image, he takes it to near completion, revealing the importance of staying open to new ideas as he develops a creature. From there he explores the same ideas for head and creature development using ZBrush's mirroring tool. Finally, he finishes with a sculpted ZBrush "sketch" showing ways to keep creativity alive while working in 3D.
INSTRUCTOR BIO:
Neville Page was educated at the Art Center College of Design in Pasadena, California. Although his major was product design, he has always gravitated towards entertainment. With the combination of his education and personal interests, Neville has found himself involved with quite a variety of projects from creature design and sculpture to conceptual design and engineering. His clients have included Universal Studios, Warner Bros., 20th Century Fox, Mattel and BMW to name just a few. He has worked on such feature films as Minority Report, Planet of the Apes, X-Men 2 & 3, The Lion, The Witch and The Wardrobe, Superman Returns, James Cameron's Avatar, J.J. Abrams' Cloverfield, Zack Snyder's The Watchmen, Louis Leterrier's The Hulk, and J.J. Abrams' Star Trek. Neville has also taught at the Art Center College of Design (Pasadena and Switzerland), Otis College, Gnomon and corporate workshops.
For more information about NEW GNOMON DVD, click here.