Digital photos of single scene into a virtual 3-D world

Researchers at the University of Washington have developed a new experimental software that enables hundreds of digital photos of a single scene to be mapped into a 3-D virtual world.
Called Photo Tourism, the software places each photo where the photographer would have been standing while taking the shot. It then enlarges one picture, placing others relating to the scene at the bottom alongside buttons that help in navigating the photos one after another.
The software then looks for details shared between different photos that can be used to compare them and stitch them together in three dimensions, giving one the feel of navigating through a video game while sifting through hundreds or thousands of photos.
Click to enlarge the screenshots
"Anyone who has a digital camera has the problem that they have more photos than they can possibly navigate. And it's always a problem to find the photo that you're looking for," said Steve Seitz, associate professor of computer science engineering at UW.
For their test, the research team took scenes of Trevi Fountain in Rome, the Notre Dame Cathedral in Paris and Half Dome mountain in Yosemite National Park, and wrote computer software that analyzed each image and calculated where it was taken.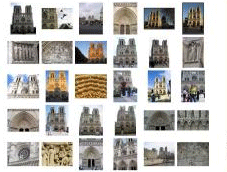 Each photo was represented by a small square placed in the appropriate position in a sketch of the original scene.
"By moving right or left, or zooming in and out, the computer will fade to an appropriate shot. Highlighting a feature, like Neptune statue at the center of Trevi Fountain, brings up a high-resolution photo of that object," said Seitz.
"You might look at a photo and say I wonder what's just to the left of it, or I wonder what's just to the right of it, or I wish I could expand the field of view," said doctoral student Noah Snavely.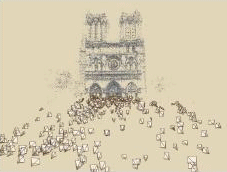 According to Seitz, the software goes beyond simply organizing a photo collection by recreating a particular scene or location at the resolution of the photos.
"The interface presents each photo as a little box, and photos fade into one another to give the impression of a 3-D zoom," he said.
Seitz believes the technology has the potential not just for organizing photo collections, but also for capturing scenes and, perhaps someday, creating a visual map of all the photos on the Internet.
"Current research will create an even more fluid, game-like interface. Users will feel as if they are navigating a 3-D world," said Seitz.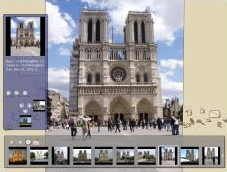 "Real estate agencies, museums and hotels might find it a useful way to present a virtual tour because viewers could zoom in to read a restaurant menu or to view a painting. Archaeologists and biologists have expressed interest in creating realistic visual representations of their research sites. Military and surveillance organizations also would like to organize photographs in an intuitive way. Sports enthusiasts could even recreate their favorite game by combining all the photos taken at an event," he added.