INTRODUCTION TO CHARACTER MODELING WITH MARK DEDECKER

The Gnomon Workshop announces the release of Introduction to Character Modeling with Mark Dedecker. In this lecture, Mark breaks down the modeling pipeline, establishing an organized and effective method, simplifying the character modeling process. Relying on his years of production work in different pipelines, combined with his experience as an instructor, Mark is able to present a clear and intelligent approach to the character modeling pipeline, stressing the importance of organization, planning, and form analysis.
Mark identifies and details many artistic and technical issues that arise in the character modeling pipeline which will dramatically speed up and enhance your workflow.
DVD DESCRIPTION:
In this DVD, Mark Dedecker guides you through the initial stages of establishing an organized pipeline for modeling and sculpting a Next-Gen or Film character. Mark starts with a deceptively simple concept design and then guides you through the process of blocking out and understanding the technical and artistic needs for realizing this character. From there, he rough sculpts in ZBrush and brings back and forth into Maya, comparing and interchanging them. Special attention is paid to creating realistic forms and silhouettes and how to take them from an "ugly" rough to a nice piece ready for the next stages of re-surfacing UVs and so on.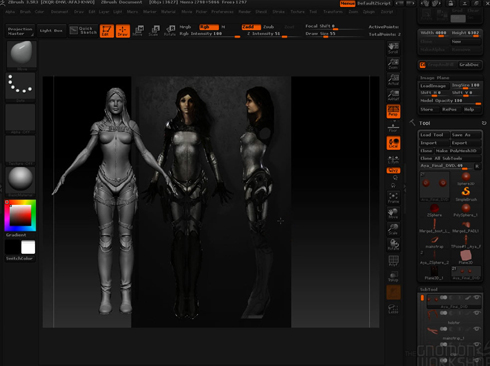 INSTRUCTOR BIO:
Mark Dedecker has worked as the lead character artist at Gentle Giant Studios and Ignition Entertainment, specializing in high and low resolution modeling and texturing for film and game characters. Currently a freelance character artist and Gnomon School instructor, Mark has worked on numerous films, games and collectibles. Some of Mark's work can be seen in Golden Axe, Iron Man, Species: The Awakening; and his digital double work has been on films such as The Hulk, 10,000 BC and The Watchmen. Mark's bust of Spiderman 3's "Venom" was featured on the June 2007 cover of Toy Fare magazine. Mark graduated from Gnomon School of Visual Effects in 2006.