Large Scale Panoramic Images Creation: xRez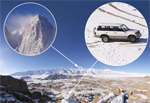 xRez is a consortium of digital artists committed to exploring new creative opportunities made available by the advent of extremely high-resolution gigapixel digital photography.
They believe this is clearly the next revolution in photography, allowing photographic experiences with a deeper level of fidelity and impact than previously seen.
Further, by combining powerful 3d tools and techniques appropriated from the visual effects field, possibilities arise of new imagery and animation that are truly novel and unprecedented.
Applications of these new techniques can range from experiencing stunningly large prints in fine art gallery installations, providing a substitute to live-action shooting in feature film backgrounds, and enriching a national park visitor's understanding and interpretation, to name a few.
xRez idea is that the very high resolution displayed greatly affects a viewer's response to an image. Gigapixel images convey a heightened sense of realism rich with unprecedented nuance. Viewing a gigapixel image is tremendously engaging and allows a level of exploration not normally associated with prior printed images. Gigapixel resolution will change the face of photography and how we view our world through the power of image.
xRez can provide a host of services, from location shooting to creating final visual effects sequences based on the shoot material. They have spent 2 years developing a custom methodology for shooting and integration into 3d animation packages resulting in possibilities ranging from re-creating history for a park visitor to visualization of geologic time. Delivery options include gallery prints, 3d animation, web graphics, virtual backgrounds for visual effects, and high resolution dome theatre projections. A strong benefit of a digital workflow is the adaptive re-use of the media, allowing multiple end uses from one effort.
Spherical panoramic photography
Recent advances in software and digital camera capabilities have now allowed possible resolutions into the range of gigapixels per single image, thousands of times greater than a standard megapixel still image. Resolutions of over 100,000 pixels in width are now possible with certain techniques. The resulting gigapixel image is one that has a tremendous range of detail contained, allowing unsurpassed viewing and exploration. This can create a stunned reaction from viewers, who have never seen resolution expressed at such a scale.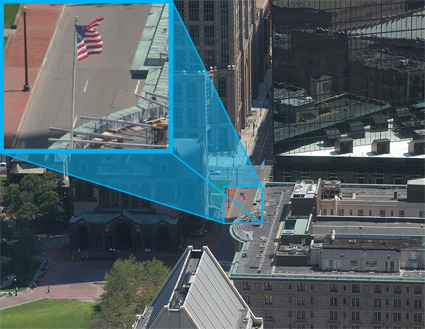 VFX and 3D integration
One of the more intriguing uses of gigapixel imagery is to wed the image with techniques used in the visual effects field. Starting by importing the image into a 3d animation package, the image can be combined with associated geometric terrain data, providing a rich starting point to create digital backgrounds and computer animation. The benefit of this approach is that a location does not need to be entirely digitally fabricated, but rather is constructed of real-world photography and 3d data, insuring realism and accuracy. Once the image has underlying 3d geometry, a full range of 3d manipulations can be performed, from re-lighting the scene, to alteration of weather and clouds, to showing geologic processes taking place.
Full-dome Theatrical Projection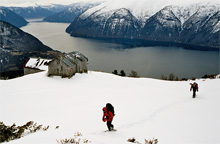 Digitally projected full dome theaters are a new form of immersive presentation for large audiences. There are more than 100 of these theaters worldwide, and many are domed planetariums that have been retrofitted w/ high resolution video projectors that use a single fisheye projection lens or "stitch" multiple projections together into one large surround image.