Maya cloth – Gnomon Workshop releases new DVD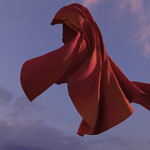 HOLLYWOOD – The Gnomon Workshop releases its first Maya Cloth DVD.
The need for realistic clothing and fabric has become commonplace in today's effects films and feature animation. Cloth 101: Fundamentals covers the process of modeling and animating cloth garments.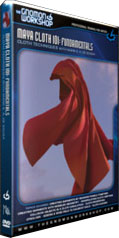 Mark E.A. de Sousa, Cloth and Hair Supervisor at Sony Pictures Imageworks, shares his production tested techniques as he discusses how to control garment characteristics and demonstrates how to integrate dynamic fields.
"Mark's many years of production experience in the field of visual effects and animation are an invaluable resource addition to the Gnomon Library," states Gustav Melich, Senior Technical Director at Sony Pictures Imageworks. "His in-depth knowledge of Maya's Cloth Solver and his concise teaching style have helped to prepare people for various cloth teams here at Imageworks on numerous productions."
Mark E. A. de Sousa is a CG Supervisor for Special Projects: Cloth and Hair at Sony Pictures Imageworks. His screen credits include being the Cloth Lead on both Open Season and the Academy Award winning Spiderman II. In the past ten years, he has worked on more than 13 feature films including The Polar Express, Stuart Little II, Harry Potter and the Sorcerer's Stone, The Hollowman, Star Trek: Insurrection, Titanic, and Volcano. Mark is also a part-time instructor at the Gnomon School of Visual Effects in Hollywood, California.
The demand for computer simulated clothing is raising with the increased production of computer animated films as well as character-driven effect sequences in live-action movies. One of the most powerful tools for creating digital clothing and simulations is Maya's cloth module. Maya Cloth is a cloth modeller and simulator that aids artists in creating realistic and stylized animated cloth for characters, creatures, or other visual effects.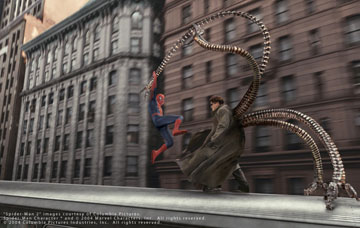 Spider-Man 2, (C) 2004 Columbia Pictures Industries, Inc.
The aim of this DVD is to introduce you to the fundamentals of working with Maya Cloth through a series of examples and walkthrough exercises. In this lecture Mark shows how to create garments by seaming panels together or with modelled geometry. He discusses how to manipulate cloth vertices through constraints and how to control garment characteristics through properties. He also shows how to work with collision objects in a cloth simulation and demonstrates how to integrate dynamic fields. Finally, Mark ties all of the basic skills and principles together by creating and animating a hooded robe on a character.
Since 2000, The Gnomon Workshop has provided artists and students with the educational resources they need to succeed as artists in the entertainment industries. Whether they're interested in design, modeling, effects, animation, storytelling or matte painting, these DVDs provide a valuable educational resource for students around the world. The Gnomon Workshop is the sister company of The Gnomon School of Visual Effects, which provides professional caliber visual effects instruction to students and professionals in Los Angeles, CA.
Topics covered:
Creating Garments by Seaming Panels Together
Cloth Properties
Creating Garments with Modeled Geometry
cpSolver
Manipulating Cloth Vertices
Adding a Wind Field to Sailboat Sails
Collision Objects in a Cloth Simulation
Cloth Caches
Stuart Little 2, (C) 2002 Columbia Pictures Industries, Inc.
 

 

DVD Chapters:

 

01: Loading the Cloth Plugin and Creating Your First Garment

02: Collision Objects

03: Adjusting Garments

04: Cloth Properties

05: Solver Properties

06: Constraints

07: Integrating Dynamic fields with Cloth

08: Saving and working with Cloth animation (cloth caches)

09: Object Cloth

10: Putting it all together: Tailoring a Robe

 

 
 

 

Click here to view a sample clip from this DVD. Note that while this clip is 640×480 the actual movie size is 1024×768. View the stills to the right to see the actual resolution.

Visit http://www.thegnomonworkshop.com for more information on The Gnomon Workshop and the library of over 160 training DVDs.