New RenderMan Pro Server 13.5 by Pixar

Includes Enhanced Multi-Threading, New Shader Features, Stereoscopic Rendering, & Expanded Licensing Policy
Pixar Animation Studios announced the release of its Academy Award winning RenderMan Pro Server version 13.5 software, together with a new licensing policy greatly increasing throughput on multi-processor computers.
RenderMan Pro Server 13.5 is optimized for batch rendering at the highest levels of performance, memory, and systems efficiency. Among the many new features are stereo rendering from a multitude of camera viewpoints in far less time than it takes to render frames in multiple-passes, new shader authoring techniques including shader objects, co-shaders, resizable arrays, and enhancements to point cloud controlled photon emission and scattering that facilitate photon mapping for a wide variety of light sources and surfaces.
Additional new features include major multi-threading performance improvements, optimized depth of field, and support for ray-traced Constructive Solid Geometry (CSG) including render-time Booleans and ray-traced ambient occlusion. RenderMan Pro Server 13.5 also incorporates Pixar's new licensing scheme permitting up to 4 threads or 4 parallel renders per host machine, substantially boosting systems performance and overall efficiency.
"With RenderMan 13.5, multi-threading comes into its own. We have observed renders that scale near linearly with the number of processors." said Christophe Hery, R&D Lead Engineer at Industrial Light & Magic. "But for us, the most important feature is the modernization of the shading language, allowing us to produce cleaner, yet more efficient shader code, in particular, area light shaders and the layering of complex surface materials."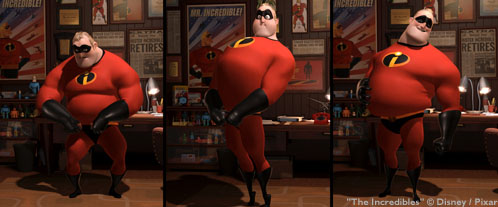 "Once again the Pixar team is innovating with RenderMan version 13.5" said Jean-Colas Prunier, CG Supervisor at Weta Digital. "We are impressed by the improvements to ray-tracing & shader objects allowing us to implement some of the latest research in shading. Not only does the RenderMan team continue to modernize this mythic renderer, but also they keep coming up with innovative new ideas. Behind RenderMan there is a team of talented people who keep coming up with solutions to help us with the rendering challenges we face in the real world of production!"
"The new features in the shading language in RenderMan version 13.5 really let us take our shaders to a new level." said Anders Langlands, Look Development Lead at The Moving Picture Company. "As a developer I can now incorporate features such as efficient and realistic area light sampling that simply weren't possible in such a clean way before, and we've only just started to scratch the surface of what's possible with the new software."
In association with Pixar's new RenderMan Studio 1.0, RenderMan Pro Server is the most comprehensive studio production rendering solution available; delivering the advanced technologies used in the film industries most renowned visual effects and animated features, including Pixar's latest Ratatouille.
 

Availability

RenderMan Pro Server 13.5 is now available on Windows XP, Mac OS X, and Linux. Upgrade pricing from RenderMan Pro Server 13.0 is also available. In addition, Pixar's maintenance program benefits customers with access to ongoing support and upgrades for an annual fee. For more information visit www.pixar.com or contact [email protected].