NEW VEHICLE DESIGN DVDS WITH ALEX JAEGER

The Gnomon Workshop releases a new Vehicle Design series by visual effects art director Alex Jaeger. In these two volumes Alex will walk you through his process for designing a futuristic military vehicle, from ideation and designing a 3/4 view to creating orthographics for a 3d modeler and rendering a presentation piece.
His demonstration places particular emphasis on using the script as a guide for his design decisions, including form, color, lighting and texture details. Alex brings to these lectures his experience working on major feature films such as both Transformers movies and J.J. Abrams' Star Trek, and his incredible ability to blend science fiction and reality into seemingly fully-functional believable designs.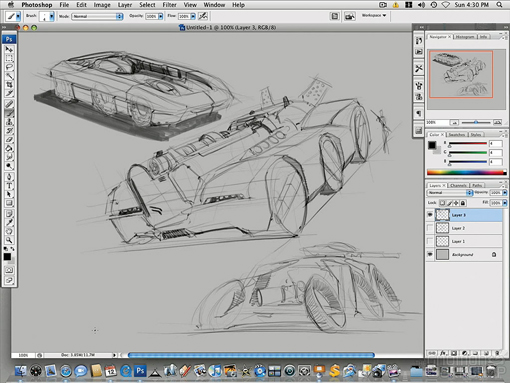 Vehicle Design Volume 1: From Script to Concept DVD Description:
In this series, Alex Jaeger demonstrates his process for designing a futuristic military vehicle based on descriptions from a science fiction screenplay. In this first volume, he covers the ideation phase through to completing a detailed three-quarter view drawing in Photoshop®. Alex discusses his design philosophy, informed by his automotive design background, and he uses key story details to inspire his decision making. As he starts to sketch in Photoshop, you will see his process for roughing in quick ideas and choosing which of those ideas is most successful based on the visual strength of each design and how well it adheres to the script's guidelines. Alex then picks a sketch to develop into a refined three-quarter view drawing, and demonstrates his techniques for detailing the vehicle and making sure that all the parts fit and flow together with a theme. Finally, Alex discusses the value of using reference as he adds elements to his futuristic vehicle to keep it believable but relevant to its world.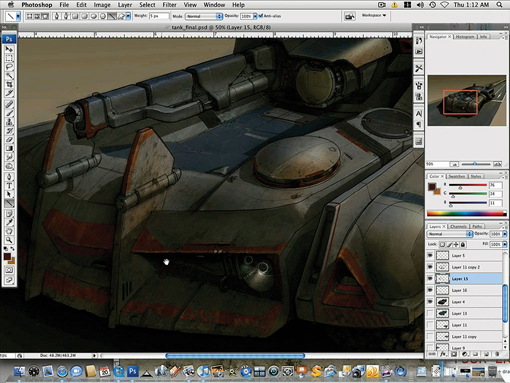 Vehicle Design Volume 2: Concept Breakdown and Rendering DVD Description:
In this series, Alex Jaeger demonstrates his process for designing a futuristic military vehicle based on descriptions from a science fiction screenplay. In this second volume, with an emphasis on the production pipeline, he shows how to break down a three-quarter view of a vehicle design into orthographic views for a 3D modeler, and then demonstrates the process for rendering that three-quarter view into a final presentation piece in Adobe Photoshop®. Alex begins with the side orthographic view, showing you exactly how to correctly measure and position each element from your design. He leads you through his workflow to then create top, front, and back views, as well as alternates for "on-rode" and "off-rode" modes. Throughout the orthographic demo, Alex focuses on keeping the design accurate, well organized and easy for a 3D modeler to "read". He then moves on to rendering the three-quarter view in Photoshop, adding details to the line drawing and finishing with color, lighting, graphics, photo-textures, scale cues and atmosphere to present the vehicle in its world and bring the final design to life.
Alex Jaeger studied automotive design at the College for Creative Studies and entertainment design at the Art Institute of Pittsburgh. Soon after graduating, he began working in both the model shop and art department at Industrial Light and Magic. At ILM he has served as a visual effects art director for the past 15 years on projects such as Star Trek: First Contact, Wild Wild West, Starship Troopers, Deep Impact, Galaxy Quest, Pearl Harbor, Star Wars: Return of the Jedi Special Edition, Star Wars: Episode 2, Star Wars: Episode 3, Transformers, Mission Impossible 3, Transformers 2: Revenge of the Fallen and J.J. Abram's Star Trek. He's responsible for such designs as the Akira Class starship, Bumblebee's and Starscream's head designs, the Clone Trooper variations and the futuristic police officer's mask from Star Trek among many others.