nPower Releases Power Translators for Maya

nPower Software Releases Next Generation Translation Technology for Maya
nPower Software (a division of IntegrityWare) announces the release of its popular Power Translators product on the Autodesk® Maya® / Autodesk® AliasStudio™ platform. Power Translators for Autodesk® 3ds Max® / Autodesk® Viz® has become the premier tool for design visualization.
Now that popular tool is available for Autodesk® Maya® / Studio Tools®. Rendering CAD data in Autodesk® Maya® just became easier and more effective. Power Translators Maya is the most accurate and efficient solution for importing CAD data into Autodesk® Maya®.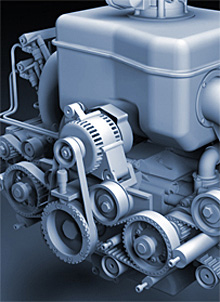 Power Translators Maya imports precise NURBS data into Maya instead of transferring imprecise polygonal representations. The result is that you get a more accurate representation, and beautiful, precise renderings. Autodesk® Maya® users no longer have to spend days or weeks translating their high quality surface and solids models into imprecise polygonal models, and then struggling to generate high quality renderings. Power Translators Maya leverages IntegrityWare's SOLIDS++ precise geometric representation to generate extraordinarily smooth, crack free mesh and produce renderings without polygonal artifacts. If you want to get the most accurate CAD data translation, and produce the highest quality renderings, Power Translators Maya is the solution.
Power Translators Maya Features:
Precise translation of CAD data
Import IGES, STEP, SAT, Rhino
Dynamic tessellation
High quality mesh generation
Automatic surface sewing
Optimized for large assemblies
 

How to Get Power Translators Maya

Streamline your CAD design visualization workflow with Power Translators Maya, and unleash the power of your creativity. Power Translators Maya sells for $495. Power Translators Maya can be purchased at the nPower Software on-line store (www.nPowerSoftware.com/store.html ), and through various resellers throughout the world. A free 30 day evaluation copy can be obtained by contacting nPower Software, downloading from the nPower web site, or one of the nPower Software resellers.

Information

IntegrityWare / nPower Software Contact
David Gill, VP of Product Development
858-309-5078
[email protected]