PC Industry Big Shift – AMD to buy ATI

Is AMD eyeing ATI for an acquisition? That was widely discussed rumor on Wall Street since this May. Industry analyst Apjit Walia of RBC Capital Markets predicted a merger or acquisition in the not-too-distant future as we previously mentioned.
Now, it has become reality. AMD has announced it will purchase ATI for $5.4 billion. Shareholders of the latter will receive $20.47 per share in compensation, including $16.40 in cash and 0.2229 Advanced Micro shares for each ATI share.
An AMD-ATI marriage could shift the balance of power in the chip industry in significant ways. AMD's product portfolio — which has remained limited to the microprocessors that act as a PC's main calculating engine — would balloon overnight, as it folds in two major new chip categories.
The acquisition allows AMD to fight Intel on a level playing field, with access to chipsets and integrated graphics across the PC and consumer electronics spaces. Not surprisingly, some ATI licences with Intel have not been renewed.
An acquisition of ATI "would make AMD a bigger player with a more diversified portfolio," said Nathan Brookwood, an analyst with research firm Insight 64. "It would certainly put AMD on a more equal footing relative to Intel."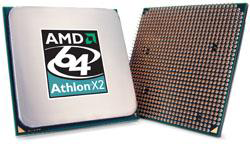 A deal would also put competitive pressure on Nvidia Corp., the other dominant maker of graphics chips. Santa Clara-based Nvidia has competed against Intel in selling chipsets and graphics chips while counting on AMD for sales of those products.
The deal will also expand AMD's manufacturing options even further since ATI has relationships with the top two foundries, TSMC and UMC. AMD recently announced planning $2.5 billion investment to expand its internal manufacturing with new 300mm fabs in Dresden, Germany and Malta, N.Y. AMD also has an existing relationship with Chartered, the number three foundry.
"We have a broad array of options for us to optimize our manufacturing strategy in the future," Ruiz said.
AMD said that in 2008 and beyond it aims to create silicon-specific platforms that integrate microprocessors and graphics processors to address the growing need for general-purpose, media-centric, data-centric and graphics-centric performance. The company will also continue to develop "best of breed" discrete products.
Should the deal be approved by ATI shareholders, the acquisition will be completed during 4Q 2006.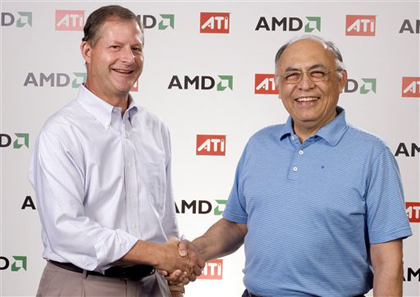 Chiefs opinions:

 

AMD's Chairmen/CEO Hector Ruiz stated (right on the picture):

ATI shares our passion and complements our strengths: technology leadership and customer centric innovation. Bringing these two great companies together will allow us to transcend what we have accomplished as individual businesses and reinvent our industry as the technology leader and partner of choice. We believe AMD and ATI will drive growth and innovation for the entire industry, enabling our partners to create differentiated solutions and empowering our customers to choose what is best for them."

 

President/CEO of ATI, Dave Orton, also made a statement (left on the picture):

"This combination means accelerated growth for ATI, and broader horizons for our employees. All of our product lines will benefit. Joining with AMD will enable us to innovate aggressively on the PC platform, and continue to invest significantly in our consumer business to stay in front of our markets."