SOFTIMAGE|XSI Mod Tool – Create Your Future

Thinking of a career in game development but don't know where to start? You've come to the right place! Softimage, together with Microsoft and Valve Software, is proud to bring you SOFTIMAGE|XSI Mod Tool—a FREE 3D modeling and animation package, for non-commercial use, that plugs right into Microsoft XNA Game Studio Express and Valve Half- Life 2.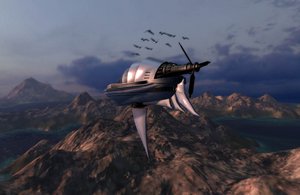 Mod Tool is built on the same powerful XSI 6 3D engine used by leading game companies like Valve, Lionhead Studios, Pandemic, CAPCOM, and more. With Mod Tool at your fingertips, you can create original games for PC and Xbox 360 using Microsoft XNA Game Studio Express, or create mods for Half Life 2! It's the easiest way to start building your game portfolio. Download it NOW!
Professional-Grade XSI 6 Features
Mod Tool is packed with the same 3D modeling and animation tools that the pros use to create triple-A titles like Half Life 2, including:
The world's fastest subdivision surface modeler, so you can work efficiently with intuitive XSI tools that make 3D modeling feel like sculpting.

The world's best polygon reduction engine: works reliably with millions of polygons, quadrangulates meshes, and preserves volume and detail.

Fast, flexible animation tools that make it easy to pose and keyframe your characters.

An interactive texture editor that lets you unfold UVs and place texture maps precisely.

Ultimapper: generate generate normal, ambient occlusion, difference, light, and albedo maps in just a few clicks.

Net View: a built-in web browser that you can use to access the tools, sample content, and training material that comes with Mod Tool.