THE GNOMON WORKSHOP RELEASES TWO NEW TITLES

This week The Gnomon Workshop releases two new titles on the Creative Production Pipeline from Thierry Doizon (a.k.a. BARONTiERi) and Sebastien Larroude (a.k.a. Rainart).
Covering Character Design and Matte Painting, BARONTiERi and Rainart reveal their techniques using a myriad of tools including Photoshop, Maya, ZBrush and Fusion. These two new titles delve into the broad expanse of the creative process from jumpstarting your creativity, research and teamwork and all the way through lighting effects and color correction.
Accolades
"Thierry brings something more than fantastic concept art to a project. His designs are the fundamental building blocks of the production and his vast imagination is key in creating a unique and original world. It's a privilege to learn how he unlocks that imagination via an array of modern and innovative techniques, creating inspiring artwork efficiently and productively."
– Jim Murray, Illustrator
"Now that most content for concept and commercial art is being developed using multiple software packages in both 2 and 3D, it has become critical for artists to understand the possibilities and hybrid paths to take to be comprehensive and competitive with their visions in this new era. Rainart's contribution to this new pipeline will take you from speedpainting to matte painting in a way that artists from all walks of the visual landscape can appreciate and benefit from."
-Mark Goerner, Concept Designer
DVD Descriptions: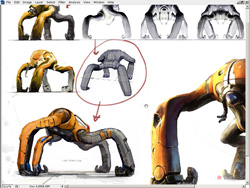 Character Design Pipeline
Production Art and Research Techniques with BARONTiERi
In this DVD, watch BARONTiERi as he demonstrates the different steps behind the creation of two iconic characters using both Adobe Photoshop® and Autodesk MAYA®. He will then show how to successfully use your imagination under realistic production constraints. BARONTiERi reveals the latest digital art techniques, ideas and original processes used by the creative members of STEAMBOT Studios. He breaks down the foundations of an efficient character design pipeline for concept artists of the video game and visual effects industries, while demonstrating the importance of teamwork, and focusing on research, development and problem-solving issues. This lecture covers professional tips, speedpainting, basic 3D modeling and environment/mechanical design.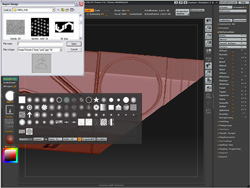 From Speedpainting to Matte Painting
2D/3D Production Pipeline with Sebastien Larroude
In this DVD, Sebastien Larroude demonstrates the techniques that he uses to create environments for the video game and entertainment industries, using Adobe Photoshop®, Pixologic ZBrush®, Autodesk Maya® and EyeOn Fusion®. Beginning with black and white sketches, Sebastien leads you through the creation of a polished concept/CG matte painting. He specifically reveals the entire pipeline to create a full CG Sci-Fi urban environment from speedpainting to mood lighting, architecture design, textures and shaders, brush creation, modeling, sculpting and compositing while discussing useful professional tips. Follow his original methodology and personal approach for using the most popular software in the industry.
Artist Bios:
Thierry Doizon, a.k.a. BARONTiERi, attended both the European Design Institute (FR) and the Kent Institute of Arts & Design (UK), graduating with honors with a B.A. degree in Industrial Design and Interior Architecture. He fell into the weird world of video games in 1995, and has worked for different companies such as Acclaim Studios, Splash Damage, Ubisoft and now Eidos Montreal. At the same time, he's been working on a diverse array of personal projects including illustrations, matte paintings and comic books, and has been invited to speak at various workshops and conferences (Disney Imagineering, ADAPT, Ubisoft Campus, The Gnomon Workshop and Massive Black). Thierry currently works as a senior Concept Designer/Art Director, and has participated in the development of The Red Star, Assassin's Creed, Prince of Persia and Deus Ex III. He is also a co-founder of STEAMBOT Studios, a collective of artists dedicated to creating, inspiring and pushing the boundaries of concept art.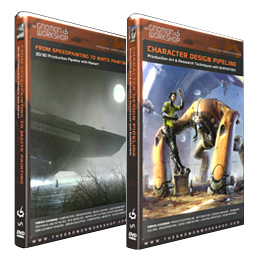 Sebastien Larroude, a.k.a. Rainart, graduated from the Superior School of Photography and Multimedia (E.T.P.A) in France, where he studied audio-visual, fine art and digital techniques. With over ten years of experience in the industry, Sebastien has built a strong reputation as a lighting artist, concept artist and matte painter. He has been invited to speak at various events and workshops including ADAPT. Sebastien currently works as a senior concept artist on the game DeusEX III at Eidos Montreal and has participated in the development of video games such as Myst IV: Revelation, Assassin's Creed, WET and Indiana Jones as well as many commercial projects with various advertising agencies in France and the United States. Along with his friends David Levy (Vyle), Thierry Doizon (Barontieri), Nicolas Ferrand (Viag) and Joel Dos Reis Viegas (Feerik), he recently started STEAMBOT Studios, a collective of creative artists whose goal is to inspire and push the boundaries of concept art, matte painting and digital art.
Read more: