The first Slovak stereoscopic experimental film KUKU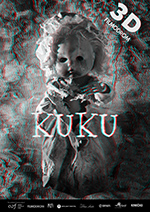 KUKU is a fantastic story about the things living their own lives, about our child and dream visions. It is a story searching for the secrets of unknown world nonexistent on the surface, but on the inside – inside of things, appliances, machinery, toys.
The film was shot in site-specific scenery created in the bowels of an abandoned building Centralka. Banska Stiavnica 2014. The formation of this film is financially supported by Slovak Audiovisual Fund .
Director: Henrich Žucha
Assistent director: Klára Jakubová
Script: Mila Dromowich
Postproduction: h21studio
VFX specialist: Michal Moc
Sound design: Marek Kundlák, Vladislav Šarišský
Actor: Ruben Santander Molina
Duration: 10min
Country: Slovakia
Year: 2012-2014
distributor: Filmodrom
web: www.filmkuku.sk, www.filmodrom.eu